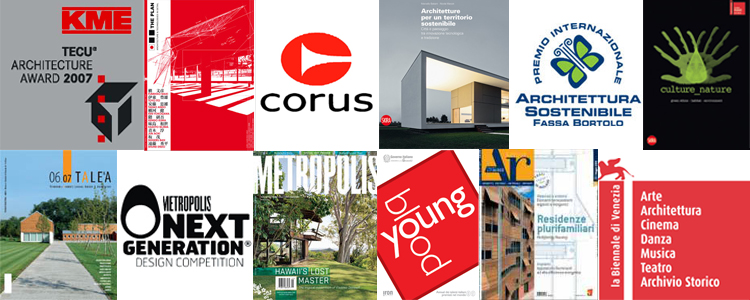 _BOOKS/LIBRI
2010_Skira - Architetture per un territorio sostenibile: Città e paesaggio tra innovazione tecnologica e tradizione
2010_Skira - Culture_Nature: green ethics-habitat-environment
2010_fm editore - YOUNG BLOOD 09 annual dei talenti italiani premiati nel mondo
_PUBLICATIONS/PUBBLICAZIONI
04/2013_TALE&A n.38
06/2008_The Plan n.27
05/2008_Arketipo n.23
11/2007_TALE&A n.06
_NEWS/NEWS
12/06/2010_Venezia
The Project "S_M_L Residential building in Malaysia" is selected for Biennale di Venezia 2010
The project "SML Residential building in Malaysia" selected for Biennale di Venezia 2010. The spot is Thetis in Arsenale novissimo. Will be showed the model of the project, a model 1:1 of external facade in bamboo and some boards. http://www.labiennale.org/en/Home.html | http://www.culturenature.it/it/ricerca/polimi.html
---
27/05/2010_Roma
YOUNG BLOOD 09 - annual of italian talent awarded around the world
Giorgia Meloni Ministry of Youth, during the Expo "The Road to Contemporary Art – MACRO FUTURE" presents the new edition of the book "YOUNG BLOOD 09 – annual of italian talent awarded around the world". ADF group (Andrea Brivio.Davide Conti.Fabio Galli) is included in the section ARCHITECTURE with the project "SML residential building in Malaysia" 1st prize at "International Prize for Sustainable Architecture Fassa Bortolo 6th ed." http://www.annualyoungblood.com/
---
27/05/2009_Ferrara
1st Place "International Prize for Sustainable Architecture Fassa Bortolo"
After many sessions the Jury has unanimously chosen 6 projects out of 61 coming from 19 countries worldwide to put on the candidate list for the prize or the honourable mention. All of them have a high architectural level and contribute to the scope of the "International Prize for Susteinable Architecture" in very different ways. So the Jury has decided to award these projects and also to select another 13 realized projects (included in the final shortlist) worthy of mention for particular and interesting aspects. For the Degree Thesis section, 9 prize-worthy projects have been selected coming from various Italian Faculties of Architecture. Since it has been difficult to pick out any one project that stands above the rest and not one of them being so exceptional as to be able to award the first prize, after a further thorough assessment it has been decided to award a special mention equally to 4 of the above-mentioned Degree Thesis works. All of these projects which have been awarded a mention have developed certain significant aspects in relation to their different functional typology that as a whole make an interesting contribution to the subject of sustainability. THOMAS HERZOG, Chairperson of the jury with Michael Hopkins, Françoise Hélène Jourda, Juhani Pallasmaa e Alexandros Tombazis. http://www.premioarchitettura.it/ | http://www.premioarchitettura.it/IT/Home/premio-architettura/edizioni-precedenti/Edizioni-precedenti/edizione2009/tesi2009/tesi2009
---
08/07/2008_London
2nd Place "Corus Student Architects Award 2008"
The main purpose of this competition is to give architectural students a creative vehicle for learning about the use of steel in buildings. By taking part you will have the chance to explore the complex issues surrounding the theme of living with waste. The competition brief is to address the theme of 'Wasteworld' – Living with waste. http://www.corusconstruction.com/en/news_and_events/awards/
---
16/02/2008_Los Angeles
Group Finalist "Metropolis Next generation design competition 2008"
The 2008 Next Generation® Design Competition focuses on WATER. In a world of killer floods and rising tides, potable water is a finite resource. Water is everywhere—in nature, industry, home, our bodies, products, interiors, buildings, landscapes, systems (just to name a few). With up to one third of the global population living without reliable access to clean water, we need better design solutions that account for potable water, gray water, black water—its uses, re-uses, controls, management, efficiency, and conservation. The Next Generation® competition was created in 2003 to promote activism, social involvement, and entrepreneurship in young designers. http://www.metropolismag.com/nextgen/ | http://www.metropolismag.com/nextgen/news_2008.php?article_id=3350
---
09/01/2008_Hessen
1st Place "TECU Architecture Award for student 2007"
By using different kinds of TECU® Patina and TECU® Brass panels, a colourful and lively pattern was created. On the front façade, bamboo facing is used in order to activate natural ventilation. The facade is split by TECU® elements. "An extraordinary detailed layout with a lively social approach. A very good example for designing residential buildings even under problematic circumstances." (Excerpt from the Jury's appraisal). http://www.kme.com/award/ | http://www.tecu.com/taa07_final/gewinner.html
---
13/10/2007_Lecco
1st Place "Premio Lecco per l'architettura sostenibile 2007"
Organized by Politecnico di Milano, is a competition for Sustainable architectures where partecipated univerity of different countries.
---
06/10/2007_Palermo
Commendation "Premio Compasso Volante 2007"
The Prize Compasso Volante was born few years ago from an idea of the prof. Ettore Zambelli and prof. Eric Dubosc. It is open to univesity around the world. It is a collaboration between the schools and faculties of architecture and engineering for the benefit of the students in the 5th year of study and every year change location arount the world to design and planning. President of jury: Ian Ritchie.
---
26/07/2007_Milano
2nd Place "Pirelli RE edificio 13 - BOB 01" (co-work for PARK Associati)
The B_O_B Bio Office Building is a competition project which attempts to propose bio-climatic and energy solutions in work spaces which rebalance the relationship between the natural dimensions and the dynamics of efficiency and productivity. B_O_B enhances the quality of work environments and creates new synergies between the interior and exterior of the building. The project aims to be a role model for understanding the skin of a building and the interior as an interface between the urban setting and the functions of office life. B_O_B is a "living" organism. It follows the change of seasons, altering its skin like a chameleon in a constant dialogue with the life of the building. http://europaconcorsi.com/projects/91053-B-O-B-01
---
26/06/2007_Milano
1st Place "Salewa Headquarters" (co-work for CZA Cino Zucchi Architetti and PARK Associati)
The functional theme – a large warehouse, offices, factory shops, kindergarten, cafeteria and indoor climbing gym – is articulated following the client's desire to have a representation of the company's brand, producing sophisticated mountain climbing apparel. The exceptional location adjacent to the Brennero highway suggested a "landmark" building, in formal dialog with the surrounding steep cliffs. The oxidized zinc envelope and the large north-facing glazed surfaces generate a "mineral" feeling of the whole building on the backdrop of the beautiful and hard landscape. http://europaconcorsi.com/projects/4094-Salewa-Headquarter
---
01/05/2007_Milano
Join to PARK Associati staff
Join to PARK Associati's Office to partecipate at Salewa Headquarter and Pirelli RE Edificio 13 Competitions. www.parkassociati.com
---
13/03/2007_Malaysia
Workshop Universiti Teknologi Malaysia (Johor Bahru)
Workshop to meet student of UTM and learn about climate of Malaysia and check the plan of Competition. Visit city of Malacca where there's the site of project. The other days we spent time to visit Putrajaya, Kuala Lumpur and Singapore.